Title: Wrong Means Right End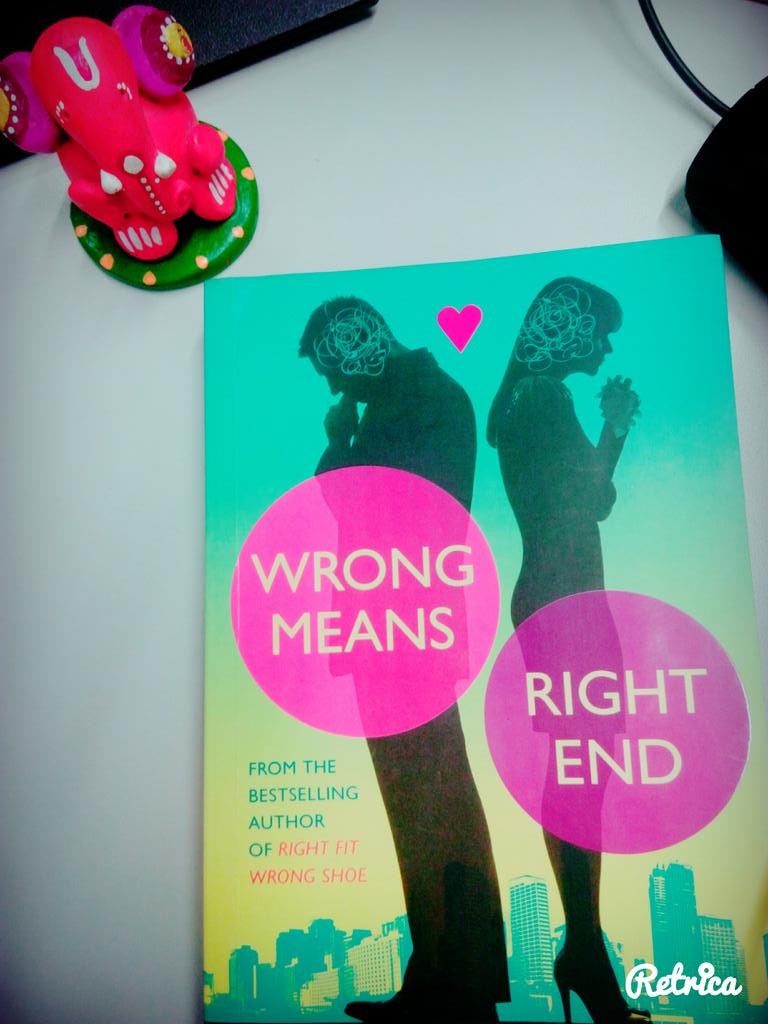 Author: Varsha Dixit
Publisher: Rupa
ISBN: 9788129120465
Number of Pages: 311
Price [INR] : 140
Genre: Fiction/Romance
Blurb 
Readers fell in love with Sneha and Nandini, two best friends who stuck to each other through heartbreak and joy in the bestselling novel, Right Fit Wrong Shoe. Now they are back in a delightful sequel that follows the two women as they begin the next phase of their lives in Mumbai.
After a failed marriage, Sneha, a single working mom, has no time, or inclination, for love. She resists every matchmaking attempt made by the overzealous Nandini, married to industrialist Aditya. But then the past intrudes in the form of the gorgeous and rich, Nikhil, who brings along Gayatri to break-up her ex-fiance, Aditya's marriage. Sneha enlists Nikhil's help to salvage the situation. But how does she even talk to a man who clearly loathes her? As Nikhil and Sneha try to grapple with their egos and combustible chemistry, love blossoms.
Wrong Means Right End, an exuberant story about love and friendship, is filled with surprises and a wicked twist at every turn.
Plot:
Wrong Means Right End picks up from where the first book in the series,
Right Fit Wrong Shoe
ended. RFWS was the story of Aditya Sarin and Nandini which ended in their marriage. This story focuses on Nandini's friend Sneha- the heroine of the book.
Sneha is divorced and is staying in Mumbai along with her son Advey and works for the Sarins. A strong and independent woman that she is, though in her struggles, tries her best to move forward in life. And Nandini's primary aim is to find a suitable match for Sneha. Tadaa! There comes Nikhil Chandel who had made a brief appearance in the first book as well. The arrogant and egoist man, who is smart and caring as well. He captures your attention from the word go!
The book builds up with twists and turns as you also witness the uncanny entry of Gayatri, Aditya's ex-fiancee.
Whoa!
Of course, the amazing chemistry between Sneha and Nikhil- there is a flicker of love, a gleam of tenderness even when they annoy the hell out of each other.
The friendship between Sneha and Nandini is a refreshing approach to the story and who wouldn't want a friend like that who can jump through all the hoops for you.
The supporting characters, or may I say the villains of the story- Mona and Gayatri are penned to perfection without any predicament.
Loved how the relationship between Advey and Nikhil progressed along the story.
Ouch!
The editing and language saw a humongous improvement over the first book in the series. But go a little easy on the cuss words, please? It makes you cringe many a times as it is used repeatedly, at a frequent interval.
Do I Recommend?
Yes, I loved this book more than the RFWS. It is entertaining and you can finish it in a sitting. With a tinge of Bollywood and M&B, but who isn't a romantic?
Rating:
4 on 5
Disclaimer
: I received a paperback from the author via The Book Club in return for my honest review. I did not receive any monetary compensation for the same. Thanks for the opportunity. 
Grab your copy 
amazon.in | amazon.com

About The Author 
Varsha Dixit, the best selling author of four successful contemporary romance books. Her debut book, Right Fit Wrong Shoe was a national bestseller for the year 2010. Varsha was a part of the Indian Television Industry and worked as an assistant director and online editor. She considers herself a dreamer who thinks deep but writes light. Even though creativity is gender free, Varsha feels blessed and enriched to be a woman. Currently, with her family, Varsha resides in CA, USA.
Join in the game of
Rafflecopter
This Tour is Hosted by 
We Promote So That You Can Write